I was born on the 31th of October 1929 in Switzerland and I always loved the arts. I earned my living in both the hotel and the bank business. As an artist I am an autodidact but I also studied with
the painter Paul Froidevaux
Professor M. Thévoz
at the Grande Chaumière and at Goetz in Paris
with the sculptor Nigel Konstam and the tutor Bella Green Dip AD ATD, VAS
with Joe Allen in Casole d´Elba in Tuscany/Italy.
I create my own colours with pigments.
« The joy to create » is my favorite phrase.
I exhibited my works in Switzerland, France, Italy, Austria and Belgium.
Please consult my list of exhibitions.
My works can be found in private collections in Germany, Great Britain, Austria, France, the Netherlands, Italy, Poland, Romania, Australia, the USA, China and Japan.
My pictures should give pleasure and I would be glad to show you more about it in my atelier in Lausanne.
Awards:
1972 1st Prize Oil Paintings, UBS Zurich
1989 Annual Prize Ilse VOIGT, Denges
1994 1st Prize Oil Paintings – Salon international d`Arts Plastiques de Chartreuse
1995 Prize of the Municipality - Salon international d`Arts Plastiques de Chartreuse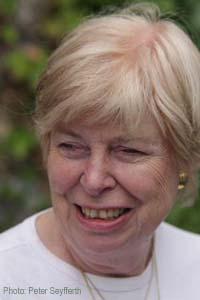 Since 1963 I am married with Christel.